Sixth Form student represents NCS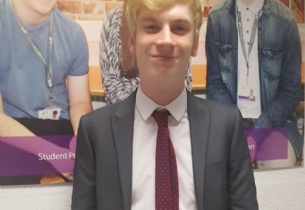 Sixth Form student Max Lloyd represents NCS at a local event.
We are extremely proud of sxth form student Max Lloyd, who recently represented the National Citizen Service at one of their events held in Speke.
"We arrived at the venue in Speke, and there was lots of Groundwork's directors and heads of departments in attendance. Groundwork has two sides to the company: a skills and development side and the green side. NCS falls under the skills and development category and instead of the staff speaking they chose to use a National Citizen Service graduate (me).
The point of the meeting was so all the departments are updated on the social action work that is going on in other departments, and getting contacts in case it could benefit their own social actions. I had the job of explaining what NCS is all about and why it is such a benefit to not only the participants, but to the communities that we live in. I explained how together in 6 weeks we raised over £10,000 for the charities we chose.
Furthermore, I discussed the benefit that NCS has had on myself, as it has given me skills that I would not necessarily get from high school .
Overall the evening was really eye opening and the buffet was great too." - Max Lloyd, Year 12 student.