New Careers Webinar TONIGHT! - How to Develop a Network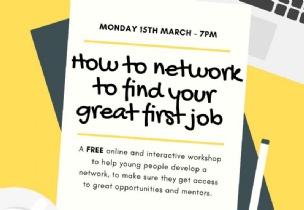 NEW (FREE) WEBINAR IS TONIGHT - MONDAY AT 7PM
INFORMATIONAL INTERVIEWS WILL CHANGE YOUR LIFE...AND ON THIS WEBINAR WE'RE GOING TO SHOW YOU HOW!

Here's the link to book your free ticket:
https://www.eventbrite.com/e/how-to-network-to-find-your-great-first-job-tickets-145649877705?aff=EM
BRAND NEW WEBINAR!
"Everytime I organise for a young person to have an Informational Interview I watch their life change a little."
That might sound a bit far-fetched...but I know that it's absolutely true.
An Informational Interview is an opportunity for you to have a conversation with someone who is already where you want to be.....that might be working in a particular company, studying a specific course, or following a career path you're interested in.
Now that's tricky enough to do if you know people that know people.
But if you want to be a lawyer, and you don't know a lawyer, or even know anyone who knows a lawyer......well that might be so tricky that it just doesn't happen.
And then you don't get the information, the insight, and the contacts...or the confidence boost of being in the same room as lawyers.
So....in this webinar we're going to show you how to organise your own Informational Interviews, when you start with ZERO contacts.