Trip of a lifetime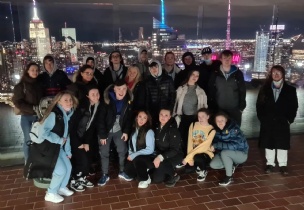 Sixth form students visit the Big Apple.
On Friday 1 April, sixth form students embarked on a trip of a lifetime to New York.
On their first night in the Big Apple after a long day travelling, they took in all the amazing views at The Rockerfeller Centre, finishing the day off with a well deserved McDonalds and bed.
They visited some amazing places including the Statue of Liberty, enjoying pancakes for breakfast, the Empire State Building, and retail therapy at Macys.
After a busy few days, they enjoyed a few hours in the hotel to rest their feet ready for a trip to Central Park the following day. On their last day they visited the Hard Rock Cafe.
After such an amazing trip they were sad it had to come to an end. The students were an absolute credit to their families, the academy and themselves. They behaved impeccably, and the sixth form team were incredibly proud of them all.
This was definitely a holiday they'll never forget!