Year 7
Wednesday 2 September
Students to enter at the green gate (Standards Gate) where their form tutor will meet them. Gates are open from 8.15am and the academy day starts at 8.30am prompt. Students should refer to their postcard for their form e.g. 7S. This will ensure the entrance gate doesn't get backlogged. If parents could ensure that they do not walk to the standards gate with their child to ensure we are following social distancing rules and that children are not crossing bubbles.
Students will sanitise their hands before entering the building.
Students will spend the morning with their form tutor getting to know them and other members of their class. They will also receive key information and their timetable.
Students will take part in a variety of lessons on this day. They will also have a tour of the academy and be taken to their fire line position.
Students will need to bring a bag with all of their equipment. Please refer to the checklist on the website. Please note: children will not require their PE kit on their first day.
Lunch arrangements will follow the timings stated on the following page. Please ensure you send your child with either a packed lunch or you have added money onto your ParentPay account to allow your child to buy their lunch from the dining room. If your child is eligible for Free School Meals this information will have been transferred over from their Primary School.
The academy day starts at 8.30am and finishes at 2.40pm. When collecting your child, please do not congregate around the green gate as there will be 270 students leaving through this exit.
Thursday 3 September and onwards.
Students designated entry point is the Standards Gate (Year 7 Courtyard). Students must enter site between 8.15am and 8.30am.
The Year 7 designated teaching block will be the EF Block.
Students to follow the directions from their entry point as directed on the map below.
When students arrive, they will clean their hands at the gate then go straight to their form rooms where they will be greeted by their Achievement Leader and Form Tutor.
All Year 7 will be taught in their forms as mixed ability classes until October Half Term.
Year 7 will have break at 9.55am and lunch at 12.10pm. They are allocated Dining Room 1 and their dedicated social space is identified on the following maps. No other year group will use the Dining Room or space at these times.
Students designated exit point is the Standards Gate (Year 7 Courtyard). They will then finish at 2.40pm.
Ready to Learn

Period 1

Break

Period 2

Period 3

Lunch

Period 4

Period 5

8.35am –
8.55am

8.55am –
9.55am

9.55am – 10.10am

10.10am -
11.10am

11.10am -
12.10pm

12.10pm -
12.40pm

12.40pm -
1.40pm

1.40pm –
2.40pm
ACADEMY ZONES - STUDENT MAP FOR ARRIVAL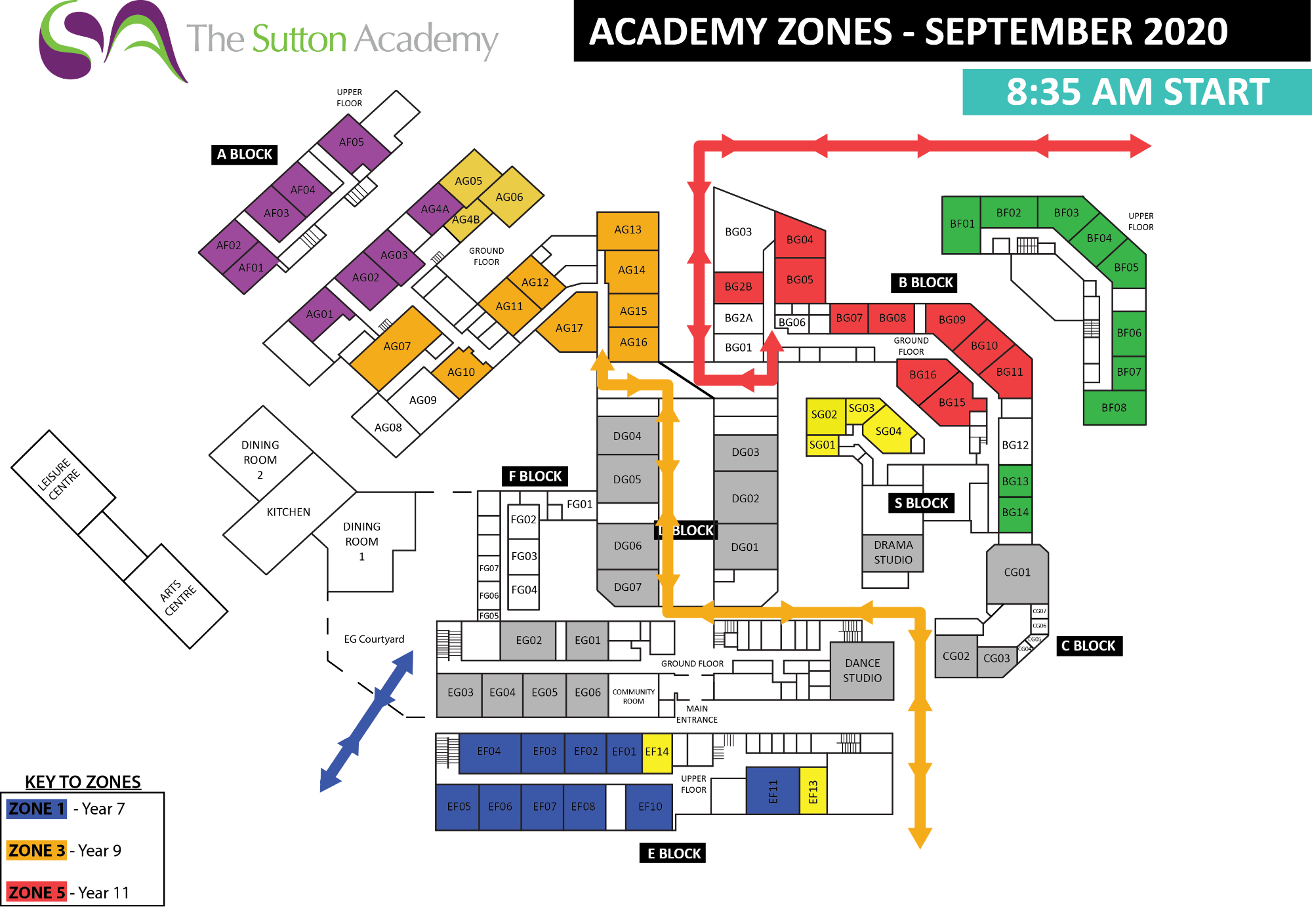 ACADEMY ZONES - STUDENT MAP FOR BREAK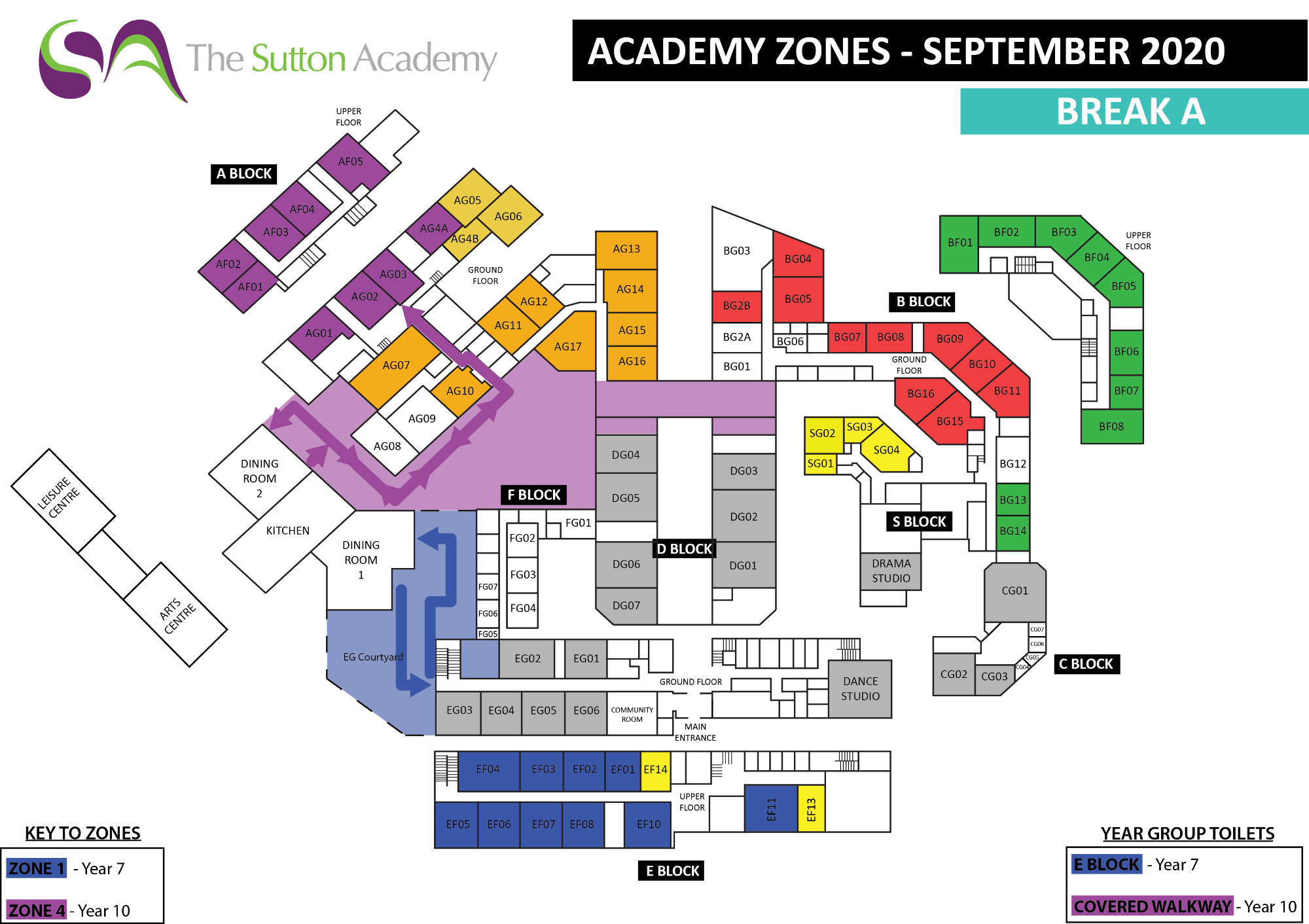 ACADEMY ZONES - STUDENT MAP FOR LUNCH