Staying Safe Online
A better Internet starts with you...
It starts with meaningful connections. Use your time wisely online to create, develop and maintain positive and valuable connections with friends, family members, social groups, charitable causes etc.

It starts with empathy. It can be hard to understand how people are feeling online, often messages can be misinterpreted when you can't actually see someone face to face. Put yourself in their shoes, listen, don't judge and reassure. Showing empathy online is really powerful and builds positive relationships.

It starts with being the best version of you. What do your images and videos say about you; are you happy with the story you are telling? How would someone perceive you now and in the future based on your posts and comments? What you share online could be there forever! Ensure you are posting positively and respectfully about yourself and if someone posts something about you that you aren't happy with, ask them to take it down.

It starts with being in control. Remember that you are in control of your online activity, it's not in control of you! Start with updating your privacy settings and ensure that you always keep your personal information safe. Make sure you know how and where to report on social media by following the link to our social media help page.

It starts with thinking critically. Don't be fooled… not everything or everyone online can be trusted. Fake news was last year's word of the year so it's certainly something to watch out for and be aware of. Before you believe what you read online think carefully about where it comes from, who's written it and whether you can find a similar message on other trusted websites. Never agree to meet up with someone you only know online. No matter how friendly they might seem or how well you think you know them, they are still a stranger. Always tell a trusted adult if someone asks you to meet up.
Remember a better Internet starts with YOU.
Top 10 Tips For Staying Safe Online
Don't post any personal information online – like your address, email address or mobile number.
Think carefully before posting pictures or videos of yourself. Once you've put a picture of yourself online most people can see it and may be able to download it, it's not just yours anymore.
Keep your privacy settings as high as possible
Never give out your passwords
Don't befriend people you don't know
Don't meet up with people you've met online. Speak to your parent or carer about people suggesting you do
Remember that not everyone online is who they say they are
Think carefully about what you say before you post something online
Respect other people's views, even if you don't agree with someone else's views does not mean you need to be rude
If you see something online that makes you feel uncomfortable, unsafe or worried: leave the website, turn off your computer if you want to and tell a trusted adult immediately.
For further information and tips for staying safe online view/download some of the resources below as provided by UK Safer Internet Centre.
Top 10 tips for mobile phone safety
Remember if you are being bullied it isn't your fault and there is nothing so awful that you can't speak to someone about it. Talk to a trusted adult at home or at school.
Don't reply to any nasty messages you receive.
Don't reply to a text from someone you don't know.
Keep the messages you have been sent so you can show them to a trusted adult and make a note of the time and date of the messages or calls you receive.
Don't answer calls from withheld numbers or numbers you don't recognise, let it go to voicemail.
Block numbers from people who are sending you nasty messages.
If you are bullied repeatedly can change your number.
Don't give your mobile number to someone you don't know.
Don't send pictures to someone you don't know.
If the problem is serious you can report it to the police, cyber mentors, or Childline.
Safer Internet Day 2019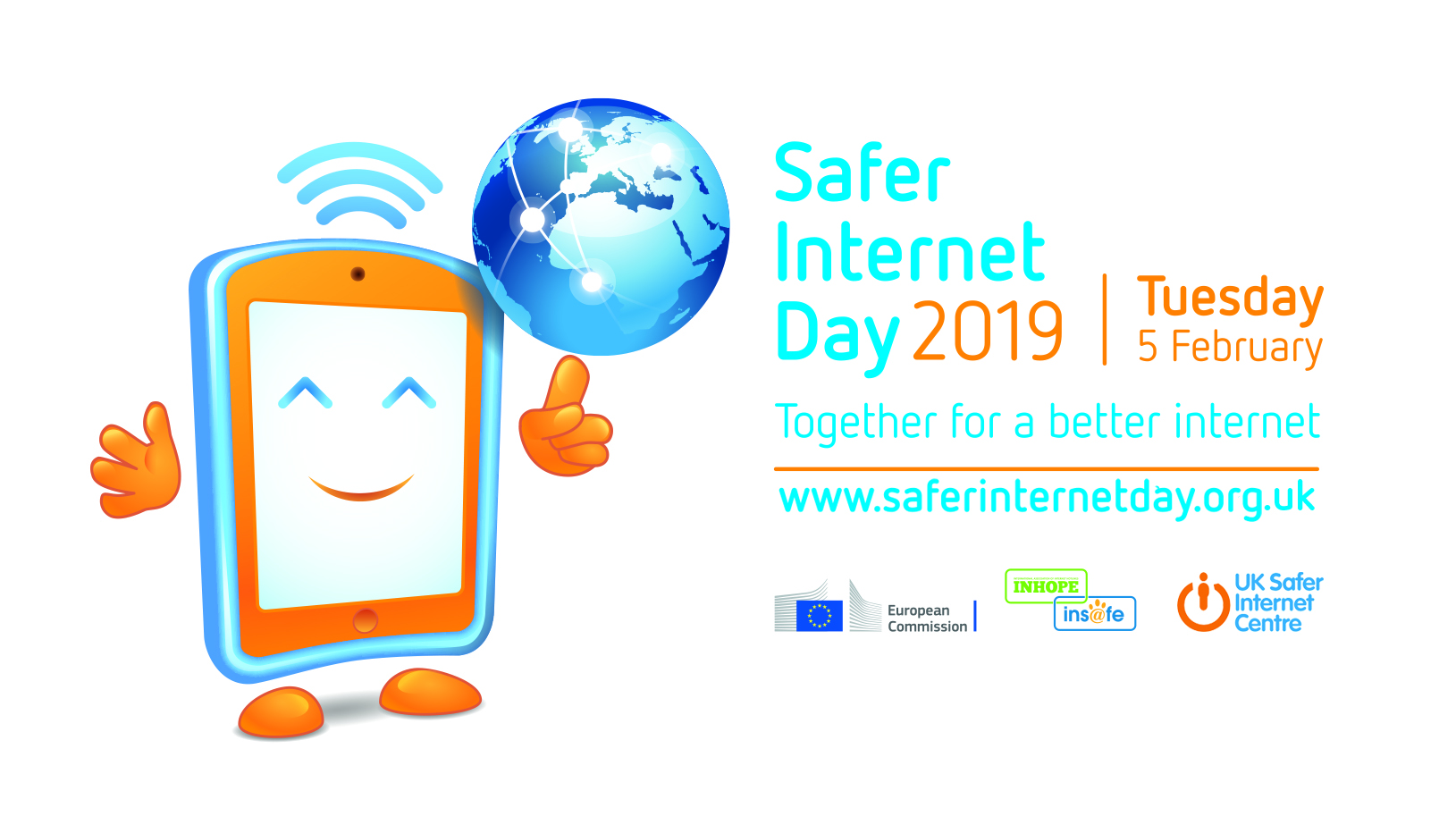 Safer Internet Day 2019 will be celebrated globally on Tuesday 5th February with the slogan: 'Together for a better Internet'.
Coordinated in the UK by the UK Safer Internet Centre the celebration sees hundreds of organisations get involved and join a national conversation about using technology responsibly, respectfully, critically and creatively.
The day offers the opportunity to highlight positive uses of technology and to explore the role we all play in helping to create a better and safer online community. It calls upon young people, parents, carers, teachers, social workers, law enforcement, companies, policymakers, and wider, to join together and help to create a better internet.
The UK Safer Internet Centre invites everyone to join Safer Internet Day supporters across the globe to help create a better internet on Tuesday 5th February 2019, and throughout the whole year!
For more information visit www.saferinternet.org.uk and the websites of the partners: Childnet, the Internet Watch Foundation and SWGfL.
National Online Safety have some useful platform guides for keeping children safe online. View/download below.